STILL SPIRITS TURBO 500 DISTILLING QUICK GUIDE
Make the Wash:

• Sanitise all equipment and prepare your wash (sugar, yeast, carbon). Refer to yeast sachet for wash recipe. Once fermentation is complete (approx. 7 days later or once SG is stable for 2 consecutive days), clear the wash.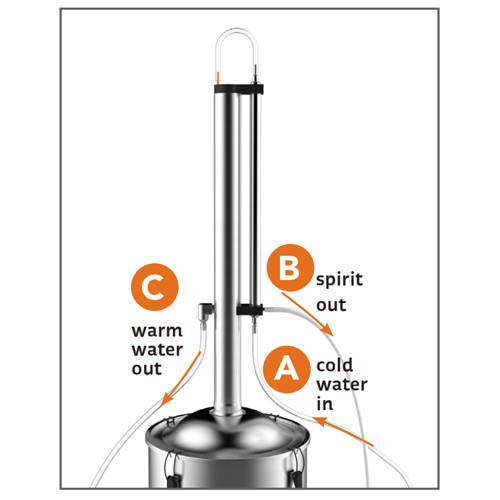 Prepare the T500 Distillation System

• Ensure tubes are connected to the right outlets and inlets. Refer to instruction manual if unsure.

• Fill boiler with cleared wash. Add in distilling conditioner and boil enhancers.

• Connect the 'cold water in' hose A to a cold water tap using the water flow controller.

• Ensure 'spirit out' tube B is going into a jug or vessel. Never let it be submerged.
Distil the Wash:

• Turn on the boiler and let it heat up to near boiling before turning on the cold tap water.

• Adjust water flow rate to between 400 and 700 ml/min (3.5 US fl oz/min) exiting from the warm water outlet tube C.

• Keep an eye on temperature, and adjust water flow rate if necessary. Temperature needs to be above 500C (1220F) and below 650C (1490F).

• DISCARD first 50 ml (1.7 US fl oz) of distillate!

• After approx. 4.5-5 hours, distillation will be finished.

• Turn off your boiler and cooling water.
Dilute & Filter:

• Dilute distillate with water to 50% ABV.

• Filter, following the instructions on your filter.