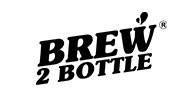 Brew2Bottle is a specialist home brew online store catering for all of your home brewed beer and wine making needs.
Apart from our comprehensive stock of brewing, fermenting and bottling equipment, we hold a great range of beer kits. From stout and porter, through traditional bitters and blonde ales to lagers.
Alongside these is our selection of wine kits to make red, white and rose; from speedily made table wines, through great value mid-range, grape variety wine kits to full bodied superb quality single estate wines from around the world.
Sat squarely between our beer and wine kits is a section dedicated to Cider, which covers more than just the traditional apple styles.
And If you are looking for something different, then we also offer high alcohol 'spirit' and 'cocktail' drinks.
Furthermore we provide everything you need to make your own country or hedgerow wines from wild ingredients.
Whether you're a newcomer to making beer and wine at home, or an experienced brewer or vintner, we hope to meet your needs and offer friendly advice and great service.
We want to hear from you – we do our utmost to bring you the best selection of Home Brew products available anywhere online, backed up by a super-efficient delivery and after care service. However we are constantly adding new products and ranges – but we don't know it all – if there are any products, brands, equipment, ingredients, books, guides or anything else home brew related that you feel we should be stocking, please contact us here with your suggestions.
Thanks!
This field is required
This field is required
This field is required